Welcome to Bookworm and NoisyRoom Readers…and thanks to Right Wing News for linking. Gonna be walking around with a big head for the rest of the day with all this linkage! Thank you!
Obviously we are in a recovery eh? After all what else could all of these indicators mean?
Inquiring minds are watching a plunge in Petroleum Distillates and Gasoline usage.Reader Tim Wallace writes Hello Mish As I have been telling you recently, there is some unprecedented data coming out in petroleum distillates, and they slap me in the face and tell me we have some very bad economic trends going on, totally out of line with such things as the hopium market – I mean stock market. This past week I actually had to reformat my graphs as the drop off peak exceeded my bottom number for reporting off peak – a drop of ALMOST 4,000,000 BARRELS PER DAY off the peak usage in our past for this week of the year.

via Mish's Global Economic Trend Analysis: Huge Plunge In Petroleum and Gasoline Usage.
From Charles Hugh Smith over at Of Two Minds.
The U.S. imports and exports petroleum products, but the net result is imports of around 8 million barrels a day.The U.S. imports about 10.5 MBD and exports almost 3 MBD for a net import total of 7.5 MBD. The secular decline in net imports from the 2006 top is consistent with the view that consumption has declined as a reflection of economic activity.
Some more alarming news…well alarming if you are just getting aboard the "Holy Shit" what have those bumbleheads in DC done to our economy!
Mark W.also forwarded these charts ofElectrical power consumption. Not only has electrical consumption  never recovered the levels of mid-2008, it peaked in mid-2011 and has begun a sharp decline in late 2011
And the last chart from Charles Hugh Smith showing a comparison in electrical consumption between other recessions and this one, notice how deep this one is? More charts follow in case you are still clinging to the dream that the economy is mending.
I marked recent recessions on a long-term chart of electrical consumption to show that the deep recession of 1981-83 barely registered, while the recessions of 1990-91 and 2000-2002 are essentially noise

http://www.oftwominds.com/blogfeb12/energy-consumption-dropping02-12.html
Here are some Baltic Dry index charts. A short term chart covering the last 7 months and a long term chart showing the huge cliff that it fell off of back in 2008. From the Wiki on Baltic Dry Index.
Because dry bulk primarily consists of materials that function as raw material inputs to the production of intermediate or finished goods, such as concrete, electricity, steel, and food, the index is also seen as an efficient economic indicator of future economic growth and production. The BDI is termed a leading economic indicator because it predicts future economic activity.[7]
Taking a look back to 2003 you can see that we have still not reached that level in shipping.

Another shipping index Harpers shows much the same thing.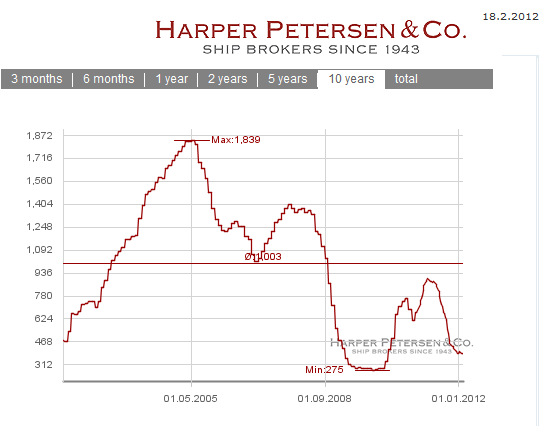 Lets take a look at retail sales adjusted for the devaluation of the dollar…otherwise known as inflation. Oopsy that is still around the levels seen back in 2006.

Finally all of these charts and others point to a very sick economy. One that won't be fixed with smoke and mirrors. What is at stake if we don't fix this economy? Take a look at what our unemployment rate would look like if we still calculated it the same way it was done back in Reagan's day before Clinton juiced the methods for calculating it around to make himself look good enough to re-elect. From Shadowstats a quick summary on changes, then below some charts on unemployment. From John Williams at Shadowstats.
The popularly followed unemployment rate was 5.5% in July 2004, seasonally adjusted.  That is known as U-3, one of six unemployment rates published by the BLS.  The broadest U-6 measure was 9.5%, including discouraged and marginally attached workers.

Up until the Clinton administration, a discouraged worker was one who was willing, able and ready to work but had given up looking because there were no jobs to be had.  The Clinton administration dismissed to the non-reporting netherworld about five million discouraged workers who had been so categorized for more than a year.  As of July 2004, the less-than-a-year discouraged workers total 504,000.  Adding in the netherworld takes the unemployment rate up to about 12.5%.

The Clinton administration also reduced monthly household sampling from 60,000 to about 50,000, eliminating significant surveying in the inner cities.  Despite claims of corrective statistical adjustments, reported unemployment among people of color declined sharply, and the piggybacked poverty survey showed a remarkable reversal in decades of worsening poverty trends.
More specifically…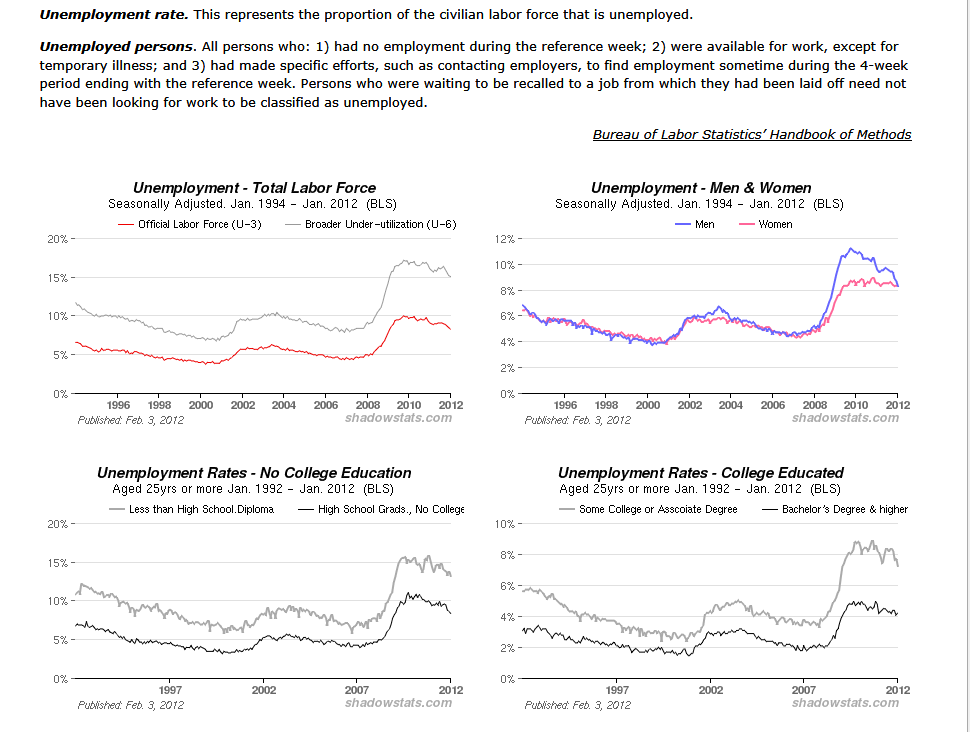 And finally the latest report from John Williams over at Shadowstats regarding unemployment.
In 1994, during the Clinton Administration, "discouraged workers" — those who had given up looking for a job because there were no jobs to be had — were redefined so as to be counted only if they had been "discouraged" for less than a year.  This time qualification defined away the long-term discouraged workers.  The remaining short-term discouraged workers (less than one year) are included in U.6.

Adding the SGS estimate of excluded long-term discouraged workers back into the total unemployed and labor force, unemployment — more in line with common experience as estimated by the SGS-Alternate Unemployment Measure — declined to about 22.2% in January 2011 from 22.4% in December.  The SGS estimate generally is built on top of the official U.6 reporting and tends to follow its relative monthly movements and will suffer some of the current seasonal-adjustment woes afflicting the base series.  See the Alternate Data tab for a graph and more detail.

As discussed in earlier writings, while an unemployment rate around 22% might raise questions in terms of a comparison with the purported peak unemployment in the Great Depression (1933) of 25%, the SGS level likely is about as bad as the peak unemployment seen in the 1973 to 1975 recession.  The Great Depression unemployment rate was estimated well after the fact, with 27% of those employed working on farms.  Today, less that 2% work on farms.  Accordingly, for purposes of a Great Depression comparison, I would look at the estimated peak nonfarm unemployment rate in 1933 of 34% to 35%.

Week Ahead.  Given the unfolding reality of an intensifying double-dip recession and more-serious inflation problems than generally are anticipated by the financial markets, risks to reporting will tend towards higher-than-expected inflation and weaker-than-expected economic reporting in the months ahead.  Increasingly, previously unreported economic weakness should show up in prior-period revisions.
Probably need to grab some reality sooner rather than later regarding our economic situation. We need to cut spending drastically, cut taxes drastically and cut interfering with business's ability to produce. We have no more slack in our economy…sadly we have no politicians with the will power to even start doing any of that!
Charles Hugh Smith thinks we are well past simple easy fixes. Given the expectations of free stuff from the major voting blocks of the Democratic party how can one disagree with Charles?