While it might be good news that there is a drop in support for suicide bombing it is also true that it might be a tad early to call this election. Consider the "moderate" state of Indonesia where the acclaimed mass murderer Bin Laden is still showing as strongly as ever. Don't let that Pew Poll fool ya in 2005 Binny Baby was polling at 38% so his support has actually edged up.
Not bad for a collection of slowly decomposing pieces parts. He has dropped in some other areas a tad but I would bet a hundred dollars to your one dollar that he would be polling extra high if he were actually making some of those really fun home movies of his. Sadly for his followers he is dead.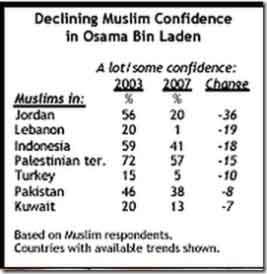 Link to Hot Air Blog Archive Pew poll: Support for suicide bombings drops throughout Muslim world#comment-584418
Sure would be nice if folks would start wondering how it is possible that an Islamic Nation that is supposed to be the picture of moderation can think so highly of the greatest mass murdering terrorist of all. Course he doesn't match up to Stalin, Pol Pot, Mao or even Castro for killing you over the long haul but in one brief 1 hour period he did a number on the worlds most powerful state. And these "moderates" in Indonesia think highly of him. Something happening over there…what it is ain't exactly clear.
What would Ron Paul do???
Technorati tags: Bin laden, indonesia, moderate muslim, pew poll, pakistan, al qaeda, ron paul