Well who would have guessed that the first meeting I attended in Independence Park would be the beginning of an event that by some accounts saw 3,000 folks come out to protest the ridiculous actions of our Federal Government. Never seen that many Gadsen signs in one spot before…apparently folks are real tired of the Government treading on them. Guess that makes us all Right Wing Extremists at best and Militia at worst.
It is amazing what the organizers were able to achieve in Baton Rouge! Robin was magnificent as our organizer and was everywhere at once…wow! She is the epitome of the saying that if you want something done give it to a busy person. Media Mythbusters Blog » Blog Archive » The Response to theTea Party Protests
We got a lot of help from Matt Kennedy from WJBO and a couple of Louisiana blogs Dead Pelican and Louisiana Conservative! Thanks!
A lot of great links at the Media Mythbusters Wiki! PJMedia is all over it naturally! Michelle Malkin spearheaded much of tea party across the nation.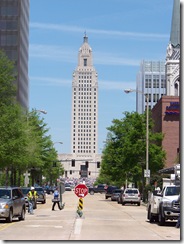 Walking up the street to the Tea Party Protest!
Getting excited just seeing the crowd from a distance realizing that others felt the same way I do!
Here is one of my 3 children Anna, myself and the warden, Karen, my awesome wife! Karen dreaming up ways of stopping Obama and the Politicians from ruining our beautiful country!