Teleprompter Jesus got his little self referential show interrupted by a Patriot!
Here is Republican Joe Wilson of SC calling Obama a liar!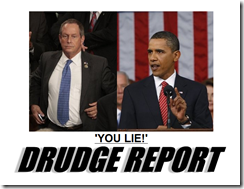 It was classic, watch the reaction of teleprompter Jesus, Biden and Pelosi…made my entire month! I am giving Joe Wilson a campaign contribution! Click here to join me!
WASHINGTON — The nastiness of August's health care debate reached into the U.S. Capitol on Wednesday as President Barack Obama tried to move his reform plan forward.
South Carolina Republican Rep. Joe Wilson shouted "You lie!" after Obama had talked about illegal immigrants.
It wasn't the only interruption during Obama's speech to a joint session of Congress in the House of Representatives. Earlier, Republicans laughed when Obama acknowledged that there are still significant details to be worked out before a health care overhaul can be passed.
Wilson's outburst caused Obama to pause briefly before he went on with his speech. Overhead in the visitors' gallery, first Lady Michelle Obama shook her head from side to side.
From the Wednesday, Sept. 9, 2009 online edition of The Augusta Chronicle