We just found out that William Ayers, that guy who was according to Obama just a guy in the neighborhood, had plans for murdering upwards of 25 million folks who might fail to be re-educated in the camps after the revolution. Yea I know it is freaking unbelievable that scum like that not only ISN'T in prison, he is not ONLY a Professor at a University (showing how corrupt our Universities are) but he is the mentor of a Presidential Candidate. Btw if you DON'T believe me then merely scroll down to the bottom of the page and take a gander at the video of the FBI Informant who infiltrated the Weathermen talking about it. He cannot believe what he heard either. Thanks to Confederate Yankee for this blockbuster.
I want you to imagine sitting in a room with 25 people, most of which have graduate degrees, from Columbia and other well-known educational centers, and hear them figuring out the logistics for the elimination of 25 million people….
Bear with me I have a point. This post is about this picture.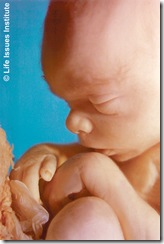 This is child is 20 weeks old. Obama believes it is above his pay grade to decide whether this is a child or not. His "friends" at one point discussed killing 25 million grown individuals who refuse to be re-educated. Hmm…life is cheap around his friends.
You don't need a weather man
To know which way the wind blows
Please explain how he has gotten this far in the election process. Here is that FBI Informant talking about being inside of the Weather Underground. Now remember that Ayers and Dorhn were among the founding members of this group so they surely were involved in the planning of your murder. Nice.
Remember that Obama says:
SEN. OBAMA: George, but this is an example of what I'm talking about.

This is a guy who lives in my neighborhood, who's a professor of English in Chicago, who I know and who I have not received some official endorsement from. He's not somebody who I exchange ideas from on a regular basis.
A person who planned the murders of 25 million folks is just a professor who lives in his neighborhood. Even if we take Obama at his word, and that is hazardous indeed since the man is a habitual liar, exactly what does it tell you about a man wanting to be the President of the United States who needs a Weatherman to know which way the wind blows? Exactly how big does the CLUE BAT have to be to wake Obama up to the despicable nature of his friends?
And that is just ONE of his suspicious friends. Obama has plenty of suspect acquaintances…is his judgement as bad as it was regarding Ayers? If so, is this the person you want dealing with the world?
Technorati tags:
jeremiah wright
,
palin porn
,
sarah short shorts
,
nude palin
,
rezko
,
ayers
,
dohrn
,
weathermen
,
radicals
,
communists
,
marxist
,
obama
,
barack hussein obama
,
sarah palin
,
mccain
,
POW
,
Vietnam